Associations Advocate Against Hospital-Specific Mandates With L.A. Times Advertorial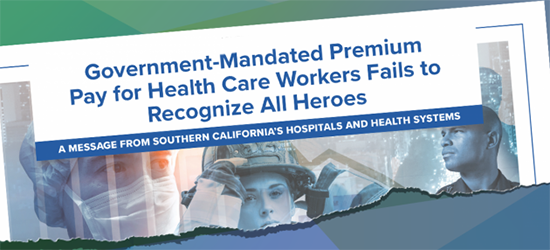 With the California Hospital Association, HASC this week published a advertorial in the Los Angeles Times newspaper calling on state and local lawmakers to reject so-called "hero pay" legislation that would mandate increased pay for hospital workers only.
On Monday, June 14, the Culver City City Council votes on such a proposal. While the measure would impact one facility only, HASC and CHA are mounting vigorous opposition as its passage would set a dangerous precedent.
Earlier this month, state lawmakers declined to approve a similar legislative proposal.
"Our health care workers are heroes," the advertisement, which ran June 10 on page A-3 of the L.A. Times states. "As policy makers move to introduce so-called 'hero pay' mandates for health care workers, they fail to consider the millions of other essential workers like firefighters, transit workers, teachers, peace officers, restaurant and retail workers who also kept our communities safe and functioning during the pandemic. Imposing additional compensation mandates on hospitals is not only arbitrary, but also fails to recognize other invaluable allies in the fight against COVID-19."
View the complete page A-3 L.A. Times ad here.
With comments or questions, contact HASC Vice President, External Affairs & Strategic Communications Adam Blackstone.
Contact:
Adam Blackstone
(323) 447-0864
ablackstone@hasc.org