Cooperative Symposium to Study
Homeless Patient Discharge Issues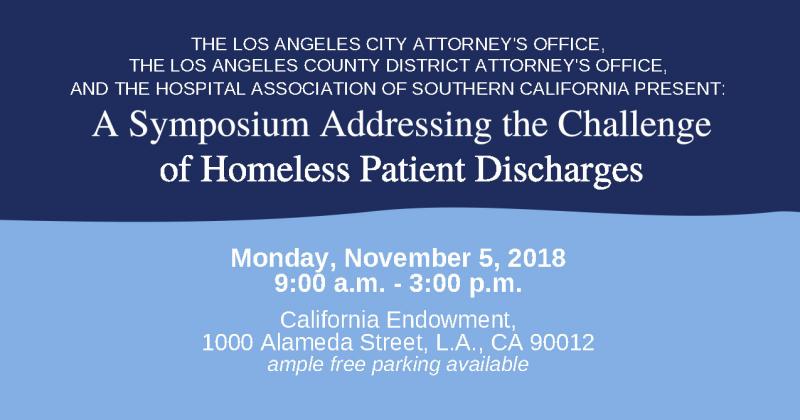 A unique symposium co-organized by HASC, the Los Angeles City Attorney's Office and the Los Angeles County District Attorney's Office will discuss multiple issues connected to homeless patients and their discharge from facilities on Monday, Nov. 5. The event will take place at The California Endowment in downtown Los Angeles.
As of Tuesday, Oct. 23, space for the symposium is no longer available. Interested parties are being placed on a wait list, however.
The session is designed to bring professionals from multiple organizations together to address these important issues. The symposium runs from 9 a.m. to 3 p.m. at 1000 Alameda Street in Los Angeles. Ample free parking is available.
Board and care, hospital and skilled nursing facilities staff who are responsible for homeless patient discharge were invited to attend.
Scheduled presentations will cover the following:
• Identifying challenges in homeless patient discharge
• Addressing mental health, consent and conservatorship issues
• Best practices and innovation in discharge planning
• Highlighting programs and resources to assist providers
Please contact Jennifer Bayer, HASC's VP for External Affairs & Strategic Communications, with any questions.
Contact:
Jennifer Bayer
(213) 538-0730
jbayer@hasc.org