Tonight's Culver City Premium Pay Vote Is Accompanied by Public Concern About Its Origin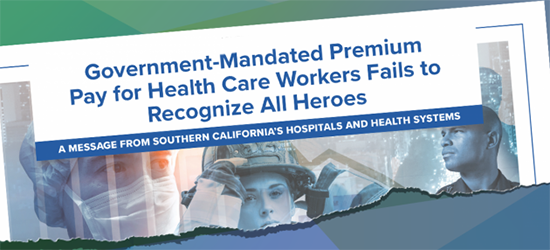 A vote by a divided Culver City City Council this evening will decide the fate of a fiercely-contested proposed ordinance that would hike worker pay $5 an hour in the municipality's only hospital.
For the past month, HASC with the California Hospital Association has campaigned against the proposed measure as unfair in singling out hospital workers for bonus pay while leaving rewards for other frontline workers active during the pandemic off the table.
A June 12 editorial in the Los Angeles Daily News and Orange County Register also raised concern for many, noting "seedy" and "dubious" backroom dealings between hospital union representatives and at least one council member. (Altogether, the editorial ran in more than 10 Southern California News Group newspapers.) The revelation raises the stakes in tonight's vote — and almost certainly ensures litigation for the city should the ordinance pass.
The past month's HASC-CHA advocacy against the proposed ordinance included May 27 and June 10 paid ads in the Los Angeles Times.
Work by HASC's communications team also resulted in a June 10 Culver City Observer article reflecting Southern California Hospital at Culver City's point of view.
This evening, Monday, June 14, the Culver City City Council votes on the proposal. While the measure would impact one facility only, Southern California Hospital at Culver City, its passage would set a dangerous precedent for hospitals and businesses across California.
Earlier this month, state lawmakers declined to approve a similar legislative proposal.
With comments or questions, contact HASC Vice President, External Affairs & Strategic Communications Adam Blackstone.
Contact:
Adam Blackstone
(323) 447-0864
ablackstone@hasc.org