Member Value Report
2020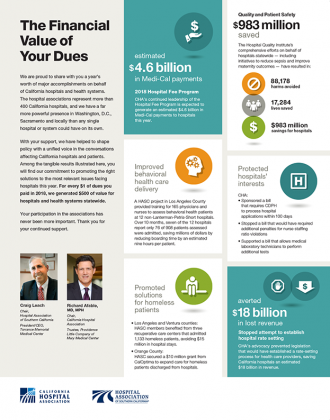 We are proud to share the accomplishments of HASC and the California Hospital Association in 2020. For every $1 of dues paid in 2020, the associations generated $480 in value for hospitals and health systems statewide.
Download and read the complete report here.
Regional Successes of the Hospital Association of Southern California
This report highlights many of the successful advocacy and representation efforts that, together, we achieved on behalf of California hospitals and health systems. With the support of committed members, and working with CHA, we advocated with a common voice in local, statewide and national policy discussions.
The Hospital Association of Southern California (HASC) relies on the willingness of members to collaborate with other hospital organizations and the association's excellent staff to achieve success. Together, we respond to opportunities to improve health care delivery and address regulatory, financial and operational challenges. This report highlights HASC's many successes achieved in conjunction with and on behalf of our members.